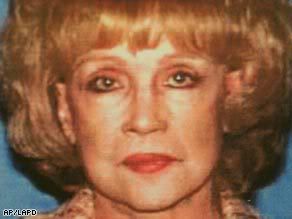 Accused hit-run grannies squabbled in custody
LOS ANGELES, California (AP) -- Two elderly women accused of killing two transient men with a car so they could collect nearly $3 million in insurance money were videotaped talking about the scheme while in FBI custody, the prosecutor said in opening statements Tuesday.
Helen Golay, 77, is accused of befriending homeless men, taking out insurance policies, and killing them.
"It's your fault," Olga Rutterschmidt, 75, told co-defendant Helen Golay, 77, in the tape played for the jury. "You can't have that many insurers. ... You were greedy. That's the problem."
Los Angeles County Deputy District Attorney Truc Do said the women befriended the two men, took out insurance policies on their lives, then drugged them and ran them over to make it look like the two homeless men had been killed in hit-and-run accidents.
Rutterschmidt and Golay each have pleaded not guilty to two counts of murder and two counts of conspiracy to commit murder for financial gain in the deaths of 73-year-old Paul Vados in 1999 and 51-year-old Kenneth McDavid, 51, in 2005.
"We have evidence to show she's not guilty," Golay's attorney, Roger Jon Diamond, said in an interview Monday. "They have over 100 witnesses but they have no eyewitness, no confession. It's all circumstantial."
The prosecutor told the jury the women found the men in a homeless shelter at a Hollywood church, set them up in apartments and supported them for two years, all the while taking out multiple life insurance policies on them.
Do said the women ultimately profited of the deaths with $2.8 million and were still trying to collect on policies when they were arrested.
The jury also was shown pictures of the victims' bodies, receipts for rent, a car that has been linked to one of the killings and a rubber stamp with one victim's signature that was allegedly used to sign insurance policies.
The case began in 2006 in federal court with a grand jury indicting the women on nine counts each of mail fraud and related charges for making false insurance claims. But when further evidence developed in the alleged hit-and-run scheme, the case was transferred to Los Angeles County Superior Court and murder charges were filed.