Thursday, January 17, 2008
American Idol should be ashamed of themselves.




Posted by

City Girl
at 1/17/2008 04:07:00 PM
No comments:
Links to this post


Tuesday, January 15, 2008
I officially hate taking the train. Everyday. Day in and day out it is one thing after another that just makes your life miserable. Not that it isn't bad enough that about 30,300 ride the train everyday packed like Sardines but, everyday there is a new adventure or a new set of annoyances that make you want to puke.
Say it with me:

"Hi my name is YOUR NAME HERE and I am a commuter. "
OK. Now breathe.
My Top ten MARC train commuter Pet Peeves:
10. People who sing along to their Ipod or radio. Tone deaf... loud... just plain wrong.
9. People who sing along to their Ipod or radio while you are trying to take a nap. What's worse are the one's who get offended when you ask them to keep it down.
8. Mr. Too Loud Cell Phone Talker & Mrs. Yell In the Phone "Can You Hear Me?" - These two are a match made in commuter hell. He talks so loud the people in the next car know what he's having for dinner when he gets home. She can't get it into her head that when you go through a tunnel that your cell phone signal dies. Learn phone etiquette why don't you...
7. People with luggage. It is a commuter train. Don't get mad at me because you have luggage. It is not my fault. Don't get pissed because your bag is bigger than all outdoors and there is no place for luggage on a commuter train. Don't be mad when one of the people that get on at Odenton (see #5) asks you to move your bag... because it is in their lovely way.
6.
People who USE the bathroom on the train
. Nothing is worse than being packed into a train like sardines and then have
Bill
(names have been changed for anonymity) go to the bathroom and light the entire train up. Can't you wait til you get home to take a dump? Why do you have to expose us all to your toxic fumes. If you can't wait, at least get some
Febreze
, that is the least you can do. Asshole.
5. The people that get on at Odenton. They are rude, nasty and think the whole world revolve around them. Bill is one of them. It is even harder dealing with them sometimes because the conductors cater to them. (ie. saving seats, etc.) That is all I am going to say about that...but I could go on for days. Hmph.
4. Sick People. I understand that everyone gets sick. That is normal. What I don't understand or appreciate are sick people that still ride the train and are sick but don't cover their mouths when they cough. That is the most irresponsible thing I have ever seen. Grown men and women that can't even be shamed into covering their mouths.
3. Broken Trains. The trains run on time about 65% of the time due to mechanical error. Some get cancelled altogether. This is very irritating, especially when you have already worked a 10 hour day.
2.
Trains that leave before their scheduled time (or even on time) with people still standing on the platform at Penn Station.
Although hard to believe... This happens. What gets me is.. The train will leave Penn Station with people still on the platform, sometimes banging on the door that just closed in their face, but the same train will sit at the
Halethorpe
or
Odenton
Stations because they see
someone
running from the parking lot to get on the train. Some days for two or three minutes. That does not
ever
occur at Penn Station or West Baltimore unless the train is
broken
. GTFOH
MARC
. I won't say it is racial. See I didn't say it.
1. Ignorant People. It is one thing to have a bad day sometimes, but it is another thing to be rude all the time. It is crazy that people will bump into you and not say excuse me. Another thing I hate is when you sit in the single seats, some people stand behind you and put their arm on the top of your chair like it is an armrest. When you ask them to stop hitting you they catch an attitude. (They might be related to Bill. I think they could be neighbors.)


Posted by

City Girl
at 1/15/2008 03:36:00 PM
No comments:
Links to this post


OK
. Now this article says it all. Oprah is the woman! Recently she has been getting flack from people for her political views. (
ie
.
Rosanne "lack-luster career" Barr
) But you have to give her credit where credit is due. She has been ranked the richest African American of the 20
th
century,
[2]
the most philanthropic African American of all time,
[3]
and the world's only
black billionaire
for three straight years. (
Wikipedia
said all that not me!)
Besides being worth billions, and all that jazz she is one of the most influential women in the world. I think it is awesome that young women have someone like her to pattern themselves after. As an
entrepreneur
(Click the link, you'll be glad you did.)I admire her drive and the ability to brand herself. Oh how I wish I could be like her when I grow up. Oprah if you are listening I sure would like to hang out sometime to pick your brain! :) Congrats on the network!
______________________________
Oprah Winfrey getting her own TV network
By DAVID
BAUDER
, AP Television Writer
Oprah Winfrey
is getting her own TV network.
Discovery Communications and Winfrey announced a deal Tuesday where the Discovery Health network will be turned over to Winfrey next year, becoming
OWN
-- the
Oprah Winfrey
Network.
The cash-free transaction involved Winfrey turning over her Web site to Discovery, while the communications company makes her chairman of the network, which is currently seen in 68 million homes, said David
Zaslav
, Discovery Communications chief.
"The focus of the channel will be the focus of Oprah's brand, which is the educate and inspire people to live the best life they can,"
Zaslav
said.
Some of Winfrey's stable of regular contributors could be expected to be part of the programming, he said. Winfrey's current talk show, as well as rights to use of reruns, is spoken for until the end of the 2010-11 season.
Besides hosting
syndication's
top-rated talk show, Winfrey puts out her own magazine.
Posted by

City Girl
at 1/15/2008 02:22:00 PM
No comments:
Links to this post


Monday, January 14, 2008
So I officially want to give thanks to the New York Giants for eliminating one of the teams I really hate! Go Giants!
I can't stand T.O. or the Cowboys. SO it brings me great joy to post the article below. When I saw him this morning crying like a girl on the news, I just knew I had to post it. I am looking for the video so if I find it I will post it later, but the picture says a thousand words. LMAO.
________________________________________________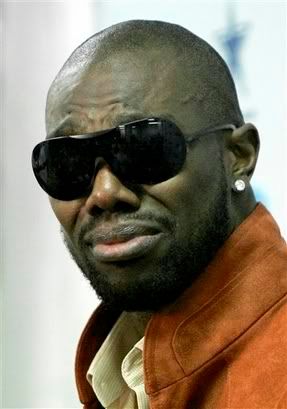 IRVING, Texas (AP) --
Terrell Owens
' bottom lip was quivering, his voice wavering.
While his teary eyes were hidden behind dark sunglasses, he couldn't hide his disappointment -- or his loyalty to quarterback
Tony Romo
-- after the Cowboys' 21-17 playoff loss to the
New York Giants
on Sunday.
"This is not about Tony. You guys can point the finger at him, you can talk about the vacation, and if you do that, it's really unfair," Owens said, his voice choked with emotion. "It's really unfair. That's my teammate. That's my quarterback. You guys do that, it's not fair. We lost as a team. We lost as a team, man."
A week after Romo's well-documented bye weekend getaway to Mexico with Jessica Simpson and a couple of teammates, the Cowboys' season is over. After a 13-3 regular season that clinched the NFC's top seed, Dallas instead made it 11 straight seasons without a postseason victory.
As promised, Owens was back on the field for the Cowboys after missing the regular season finale and 2 1/2 weeks of practice because of an ankle sprain.
Owens dropped the first pass thrown his way, but shuffled his feet to stay in bounds for a 4-yard touchdown. He finished with four catches for 49 yards, but didn't get a chance to catch a game-winner.
Romo's fourth-and-11 pass -- intended for
Terry Glenn
, not a double-covered Owens -- was intercepted by
R.W. McQuarters
in the end zone with 9 seconds left.
"They kind of doubled T.O. on the outside and Terry had a guy running with him up the middle," Romo said. "I tried to throw to the one guy in one-on-one and hope for something lucky."
Owens pushed his helmet awkwardly on top of his head and walked toward the sideline after the play.
Defeated and deflated, there were no more chances. Instead, T.O. and the Cowboys were left trying to make sense of another devastating postseason finish.
"It's hard, I can't," Owens said.
There was last year's wild-card loss in Seattle when Romo botched the snap on what would have been a chip-shot field goal in the closing minutes. Now, it's losing their first home playoff game in nine years, against an NFC East rival they beat twice in the regular season.
"It's very disappointing, especially after the way last year ended," Owens said. "This year, we felt we were destined to get to the Super Bowl and we didn't make enough plays."
But they made plenty of mistakes.
Take
Amani Toomer
's 52-yard touchdown on the Giants' opening drive, when he caught the ball in an open gap near the 40, slipped away from two defenders while Pro Bowl safety
Roy Williams
fell down, then outran another Cowboy to the end zone.
After the Cowboys took a 14-7 lead on
Marion Barber
's 1-yard plunge with 53 seconds left in the first half, New York went 71 yards in seven plays to tie the game. The Giants got 15 of those yards on a facemask penalty.
"We let them back in it, and that gave them some hope," Cowboys coach Wade Phillips said.
The Cowboys went three-and-out after regaining the lead in the third quarter, when guard
Leonard Davis
' unnecessary roughness penalty wiped out a first down. McQuarters' 25-yard return on the ensuing punt set up New York's go-ahead touchdown.
Facing third-and-20 from midfield with 4 minutes left, Romo had to call timeout because the play clock was running out. Once they regrouped, Owens was streaking toward the end zone. By the time he turned around, there was a defender between he and the ball that fell several yards short of where he was.
"It's hard, especially right now because you need to take a step back," Romo said, when asked if a 13-win season still means anything. "I've grown up in the sense that I'm not naive to believe that everything is going to work out perfect. So I appreciate the moments sometimes, even though we didn't accomplish our goal."
There will be no rematch next week at Texas Stadium against Green Bay and
Brett Favre
, the team and quarterback Romo grew up in Wisconsin rooting for, with a Super Bowl berth on the line.
The Cowboys beat the Packers at the end of November, a victory that ultimately gave Dallas the NFC's top seed.
"Obviously, the regular season don't matter. This is very evident," Owens said. "When the playoffs start, it's any man's game. We came up short."
Posted by

City Girl
at 1/14/2008 10:55:00 AM
No comments:
Links to this post